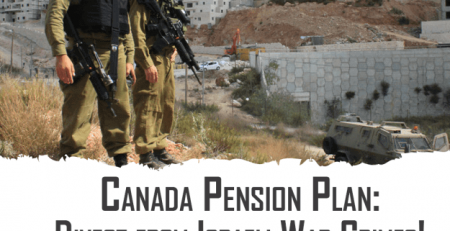 CPP investments continue to support Israeli war crimes
The Naksa. June 5, 2021, 4 years of military occupation in the occupied Palestinian and Syrian Golan territories.

The recent 2021 CPPIB Annual Report while showing that CPPIB has divested from General Mills, indicates increased investments in Israeli war crimes with at least 10 companies identified by the UN as complicit in war crimes.

Canada public pension continues to support war crimes in its divestment. Tell CPP to Divest.

#CPPdivest.
Copy and paste this URL into your WordPress site to embed
Copy and paste this code into your site to embed